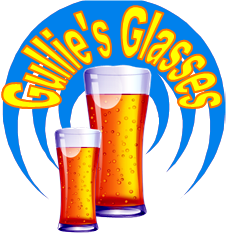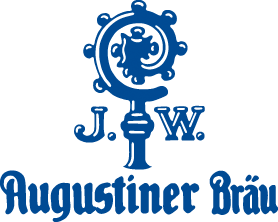 Germany - Breweries
Augustiner Brewery
Click on a beer glass for more information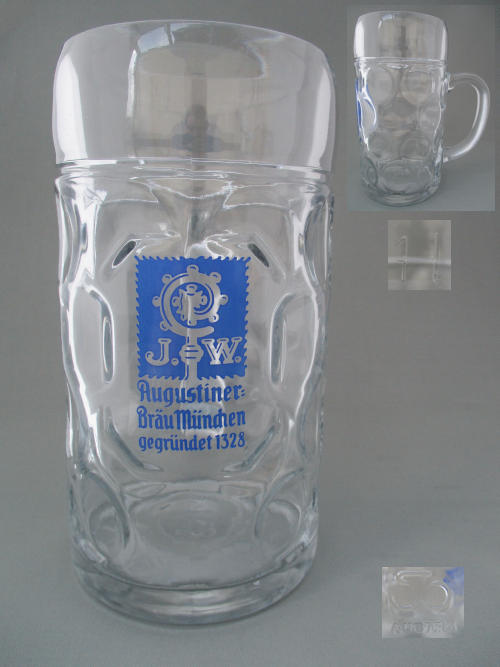 Additional Information
After the Augustinian Hermits founded a monastery on the "Haberfeld" (Haber Meadow) just outside of Munich in 1294, they also built a brewery at the beginning of the 14th century, as it was essential for the economy of the monks. The brewery was mentioned for the first time in 1328 making Augustiner the oldest Munich brewery.
In 1803 during the course of the secularization process, the monks had to leave the monastery, which was then abolished. Only the monastery brewery continued to operate, initially under state rule and later privately. Due to the dilapidation of the premises, the brewery was moved to the Neuhauser Strasse in 1817. Anton and Therese Wagner, a family of brewers from Altaching near Freising, acquired the brewery in 1829. Since then, the brewery has always been a privately owned family business. Joseph Wagner (JW) the son of Anton (who died in 1845) and Therese took over the brewery in 1858 after the death of his mother. In 1887 the brewery's trademark was registered for the first time:"J.W.", the initials of Josef Wagner, and the pastoral staff.

Augustiner beer has been served at every Oktoberfest in Munich since 1810 and is one of six breweries allowed to do so. As only beer conforming to the Reinheitsgebot, and brewed within the city limits of Munich, can be served at the Munich Oktoberfest. Beers meeting these criteria are designated Oktoberfest Beer. Since 1987, the Augustiner brewery has remained the only one, of the six Munich breweries at the Oktoberfest, that taps its beer from wooden barrels only. The six breweries that can produce Oktoberfest Beer are:
Augustiner-Bräu
Hacker-Pschorr-Bräu
Hofbräuhaus (Staatliches Hofbräu-München)
Löwenbräu
Paulaner
Spaten-Bräu

Some of the Brewery's Range
Edelstoff - First brewed in 1925
Lagerbier Hell -
Heller Bock -
Weißbier - First brewed in 1986
Pils - First brewed in 1963
Okttoberfest Bier - "Wiesn-Edelstoff", Augustiner's modern day Oktoberfest beer first brewed in 1953. Only brewed during the Oktoberfest
Maximator - First brewed in 1950
Dunkel -

Over the years the brand identity is updated and re-launched with subtle changes, a change of Logo or a new font.
Sometimes this brand update is done by the new owners after a brewery has been sold, other times just to give the brand a fresh new look on the ever growing market.

Below are some notes to help identify some of these changes and an aid to reference the year of the glass.
Augustiner Logo
?? to ??
Augustiner's iconic JW trademark with the bishop's staff was registered in 1887.
This bishop staff is facing to the right and is plainly decorated. Also in a different font
(Circa 1960s Shown)
Augustiner Logo
?? to ??
Augustiner's iconic JW trademark with the bishop's staff facing to the left and jigsaw puzzle decoration and different font