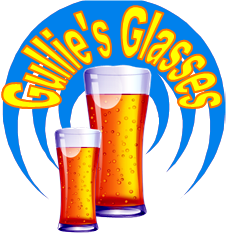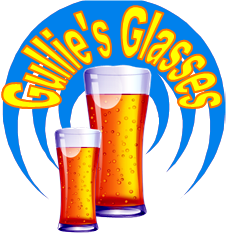 Home Page
Gullies Glasses
Welcome to my branded glass collection
I started collecting branded glasses back in 1989 while serving in the Royal Navy. At the time it was a good way of getting a souvenir and of course, trying the local beer. Nowadays I enjoy a look around the local charity shops or boot fairs for that hidden bargain. I'm also one of those suckers that likes to buy the gift box at Christmas, you know the one, buy one bottle of beer for a fiver just to get the matching glass. Check out the News section and see what's new.
The criteria
• The collection is made up of Ale, Bitter, Cider, Lager and Stout glasses from around the world.
• All branded glasses are made of Glass (no Ceramics or Plastic)
• Glasses must be branded with either the logo of the beer and / or a brewery name.
• Only Beer Festival glass that have been Sponsored by a brewery or branded.
• All Glasses must be different in some form:- logo, size, shape, volume, inscription etc.

Breweries are renamed, taken over, sold off and closed down. Where possible I have listed my glasses under the original Brewers name for each particular brand.

Global brands such as Guinness are not exclusively brewed in Ireland but under licence in many breweries around the world. For the purpose of this collection I have listed the glass under the Country of origin that the brand comes from e.g. Guinness - Ireland and Heineken - Netherlands.
Contact Information
If you wish to contact me regarding any questions you have or would like to trade glasses, please use the email address below. Thank you for visiting my site, I hope you have enjoyed looking at my collection. Don't forget to come back as pages are updated regularly as glasses are added to the collection.

Gullivertaverns@btinternet.com
This site was last updated 25/11/2023