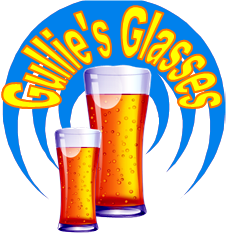 England - Breweries
Webster's Brewery (Samuel Webster & Sons Ltd)
Click on a beer glass for more information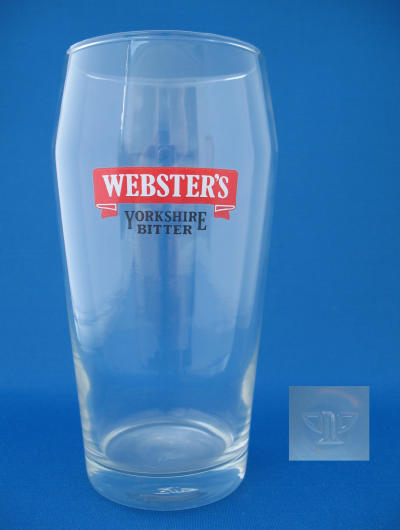 Additional Information
Webster's Brewery (Samuel Webster & Sons Ltd), was founded in 1838 by Samuel Webster and operated at the Fountain Head Brewery in Halifax, West Riding of Yorkshire, England. Webster's Green Label, a light mild, and Yorkshire Bitter gained national distribution after the company was taken over by Watney Mann in 1972. Throughout the 1970s it was known for the advertising slogan: "Drives out the northern thirst".
The brewery was closed with the loss of 400 jobs in 1996. The brand had suffered lower sales after marketing support was withdrawn following its acquisition by Courage Brewery in 1990. After the brewery's closure, Webster's beers were initially brewed at the John Smith's Brewery in Tadcaster before moving to the Thomas Hardy Brewery at Burtonwood in 2004. Silvan Brands have owned the company since 2003 when they acquired it from Scottish & Newcastle.
Some of the Brewery's Range
Webster's Green Label -
Webster's Yorkshire Bitter -
Webster's Sam Brown Ale -
Webster's Velvet Stout -
Webster's Pennine Bitter -

Over the years the brand identity is updated and re-launched with subtle changes, a change of Logo or a new font.
Sometimes this brand update is done by the new owners after a brewery has been sold, other times just to give the brand a fresh new look on the ever growing market.

Below are some notes to help identify some of these changes and an aid to reference the year of the glass.
Logo



---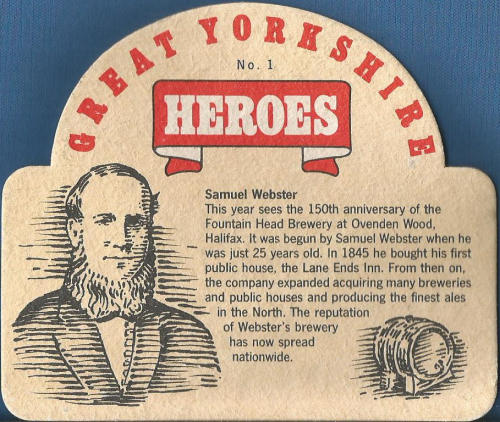 A Webster's Yorkshire Bitter beer mat (W11.5 x H9.7cm).
Great Yorkshire Heroes, number 1 in a set of 6 Samuel Webster.
Part of a collection given to me in September 2020
(Circa 1980s)
A Webster's Yorkshire Bitter beer mat (W11.5 x H9.7cm).
Great Yorkshire Heroes, number 6 in a set of 6 Captain Cook.
Part of a collection given to me in September 2020
(Circa 1980s)
A Webster's Yorkshire Bitter beer mat (W13 x H10cm).
Part of a collection given to me in September 2020
(Circa 1990s)